Since it's winter break, I thought it time to write about my past travels. I don't think I've done much of that on this blog, so I'm going to start with Hakone, since this was my first solo trip.
Hakone is close to Tokyo, so many people go there for a day trip. It's particularly convenient if you have a car.
As a non-driving, car-less individual, I decided to buy a Hakone pass so I could make the most of the area. It was originally supposed to be a three-day trip, but the guesthouse/travel inn I wanted was only available for a night. That was also the cheapest guesthouse that offered a private room in Hakone that I could find, so I said, "Well, why not just two days?"
So, I took that as a challenge.
If you're thinking of going to Hakone for a short trip someday, here's my itinerary that might help you make the most of your travel:
Pre-Trip: Buy the Hakone Free Pass at the Odakyu Sightseeing Service Counter at Shinjuku Station (Shinjuku West Exit) or Odawara Station. I bought mine at Shinjuku Station at 5,700 yen for 2 days.
What does the pass cover?
Hakone Tozan Trains
Hakone Tozan Cable Car
Hakone Ropeway
Hakone Sightseeing Cruise (Pirate Ships)
Hakone Tozan Buses
Odakyu Hakone Highway Buses
Tokai Bus Orange Shuttles
It also covers your fare from Shinjuku to Hakone-Yumoto if you bought the pass at Shinjuku
The Hakone Pass does NOT cover the Romancecar, which you've probably heard of or read about somewhere on the internet. It requires a separate payment of 1,200 yen (if you're traveling from Shinjuku) plus a surcharge of 1,110 yen. That's about 2,320 yen for a one-way ticket. It's cheaper if you're traveling from Odawara station.
I decided not to take the Romancecar because I wanted to save money and because I honestly saw videos of the popular front seat view, and I wasn't that impressed. Maybe if it was snowing I would've changed my mind.
Accommodation
I booked a guesthouse near Gora Station for my overnight trip. Hakone is a popular place, so you'll find that a lot of the hotels around the area are pricey. Most people book accommodations outside of central Hakone, with some even booking a stay in Odawara.
I was able to book a private room at the Hakone Tent near Gora Station, which serves as a terminal for the cable car going up Sounzan Station, where you can take the ropeway and catch a glimpse of Mt. Fuji on a good day.
Hakone Tent is a lovely hostel with friendly staff and affordable prices. It's especially good for group travelers. The place also has two private onsens, with one requiring reservation after checking in.
Now that we've got our passes and accommodations sorted, let's hit the road!
Hakone Trip Day 1: Hakone Loop
Shinjuku –> Odawara –> Hakone-Yumoto –> Hakone Tokaido Checkpoint –> Motohakone-ko Port Sightseeing Cruise –> Togendai View Restaurant –> Owakudani Station –> Sounzan Station –> Gora Station
Shinjuku Station to Odawara Station: 1 hour and 36 minutes
From Shinjuku station, I took the Odawara Express to Odawara station (20 stops; almost 2 hours).
I arrived at Odawara station around 10:30 and decided to have lunch because I was going to complete the loop and might not have the time to eat later on. Odawara is a transportation hub, so there were a lot of shops around.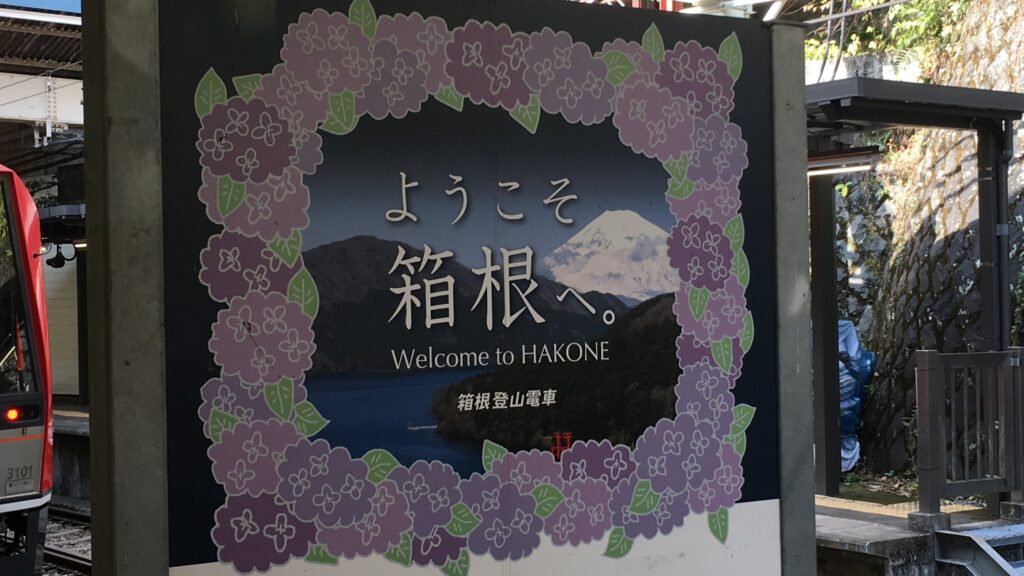 Odawara to Hakone Yumoto Station: 15 minutes
From there, I took the Odakyu Hakonetozan Line to Hakoneyumoto (4 stops; 15 minutes).
Now, Hakone-Yumoto station is where the Hakone Loop begins and ends. The loop is a popular way to see much of Hakone in a short time.
From the station, I took several pictures of a pretty red bridge nearby before boarding a bus to the Tokaido Checkpoint or Sekisho Exhibition Hall.
Hakone-Yumoto Station to Hakone Tokaido Checkpoint: 27 minutes
We passed by the Motohakone dock, one of three ports where travelers can board the sightseeing cruise ship.
The entrance to the checkpoint is actually free to people with the pass BUT only if you don't want to check out the exhibits. It's free only if you're just going to pass through the checkpoint.
I wanted to see the exhibition hall, so I paid 300 yen. It was really nice, and the view of Lake Ashi near the old watch tower was breathtaking.
Hakone Tokaido Checkpoint to Hakone Jinjya Heiwa-no-Torii: 24 minutes on foot
Next, I walked less than 30 minutes to Hakone Jinja. According to Google Maps, there was no other way but to walk there from the checkpoint. It wasn't that cold, and there weren't many people, so it was a pretty good walk, especially since I was walking through the Ancient Cedar Avenue.
I never did go all the way to the Hakone Shrine because I was waylaid by my desire to see the view from the famous Heiwa-no-Torii near Lake Ashi (Yes, the image of a large red gate on the wate plastered all over the internet every time you Google Hakone).
Unfortunately, there was a pretty long line of tourists wanting to get their picture at the gate, so I ditched it for the sightseeing cruise, with a promise to come back earlier the next day.
Heiwa-no-Torii to Motohakone-Ko: 15 minutes on foot
It was now around 2 p.m., so I walked to Motohakone-ko. The sightseeing cruise has a schedule on their website you should study so you can make the most of your time around the area.
When I got to the port, I had to wait for 2:50 p.m. to board the next pirate ship. They call it a pirate ship but don't expect anything pirate-y about it. There are three ships, and passengers can board from three docks: Togendai, Hakonemachi-ko, and Motohakone-ko.
If you board from Togendai, the ship will drop by Hakonemachi-ko and Motohakone-ko. If from Hakonemachi-ko, the ship will drop by Motohakone-ko and Togendai. If from Motohakone-ko, the ship will take you to Togendai.
It's free for those with the pass, but you can pay a few extra hundred yen to sit in the VIP area. The cruise route also depends on you. Some people board from one port to get to the next (one-way) while others board and get off at the same port (round-trip), but you'll have to check the schedule because the latest boarding time is around 4 p.m.
Motohakone-Ko to Togendai: 30 minutes
I got off at Togendai where the Togendai View Restaurant can afford you some view of the mountains and some food. I didn't stay long because the ropeway and cable car both operated only until around 4:15 or 4:30.
Togendai to Owakudani Station: 16 minutes
From Togendai, I took the ropeway to Owakudani station, where they say you can view Mt. Fuji on clear days. I did not see Fuji-san.
But the view on the ropeway and around Owakudani Station was stunning. You'll smell it before you see it. And it's because of the sulfur leaking through the mountains. It's also why the hot spring bath in the guesthouse I stayed in was really really hot.
Anyway, Owakudani is also known for the black eggs (kuro-tamago) boiled/steamed over its natural hot springs. It tastes a lot like penoy, a popular Filipino street snack. I bought some and took some pictures where I struggled with my phone camera's timer.
Owakudani Station to Sounzan Station: 8 minutes
After that, I took the ropeway to Sounzan station, where you take the cable car to get down from the mountains. The station itself is pretty nice. They have a footbath situated at an observation deck. The station also houses a first-aid and nursing room and Cu-mo Hakone, a shop that sells Kumo-pan or cloud bread, which was sold out when I dropped by. The station also has a large white column-shaped mailbox — and yes, it's functional. Add 10 yen for international mail, and you're all set!
Sounzan Station to Gora Station: 10 minutes
From Sounzan station, I took the cable car to Gora station. Do remember that the cable car has its own schedule. It's not like the ropeway or train, so try to time your visits. When I checked the website, the cable car schedule was like this: 3:17, 3:31, and 3:54…4:17 and so on.
The cable car is small and cute, and the view outside is nice. Although it was still a bit early, several minutes before 6 p.m., I was already pretty tired from the trip. It was a good thing my hostel was just a few minutes away!
And that's it for Day 1. We completed the Hakone Loop in one day! Yey!
Hakone Trip Day 2: Museums and Torii Gate
Gora Station –> Heiwa no Torii –> Ninja Café –> Hakone Venetian Glass Museum –> Hakone Open Air Museum –> Odawara Castle –> Shinjuku
Since I already completed the loop the other day, I decided to take it easy on the second day.
But I wanted to get my picture taken at the Heiwa no Torii at Lake Ashi, so I checked out of the hostel earlier than I wanted, I think around 8:30 a.m.
Accommodation to Hakone Jinjya Heiwa no Torii: 52 minutes
I took the Hakonetozan Line from Gora Station to Hakoneyumoto and got off at Kowakidani station. There, I took a bus to Motohakone-ko and walked 11 minutes to the torii.
Since I was earlier, there was only a short line of tourists. I asked a family to take my picture, and I took their picture in return. I'm not really a morning person, but being early has its advantages.
I strolled along the dock before catching the bus back to Gora Station for some brunch.
Back to Gora Station: another 52 minutes
At Gora station, I walked a few minutes to have brunch at Ninja Café Fuma. There was only one guy there who did everything…in a ninja costume. He was really nice and friendly. I had fried chicken, plum cider, and some ninja-shaped dessert.
Nearby was actually Gora Park, but I decided to reserve that one for spring so I could make the most of the entrance fee when there are more flowers in bloom.
Gora Station to Hakone Venetian Glass Museum: 19 mins
At the recommendation of a friend of mine, I decided to check out the Venetian Glass Museum. It was a bit confusing finding the right bus since there were 3-4 bus stops in close proximity to each other. You'll find the museum stop listed as Glass no Mori (or Glass Forest) on the bus stop sign.
The museum was incredible! I had to fork out around a thousand yen since it wasn't part of the pass, but it was worth it. The displays inside the building were magnificent, and the glass curtains out on the bridge looked dazzling.
Since I wasn't much for taking a million selfies, I was able to enjoy the museum quickly. I still had some places to go, after all!
Hakone Venetian Museum to Hakone Open Air Museum: 15 minutes
Although there was a nearby Little Prince Museum, I didn't think I still had time because I was still intent on going to the Odawara Castle, Kanagawa Prefectural Museum of Natural History, and the Suzuhiro Kamaboko Museum (Sadly, I wasn't able to get to them because they closed early at 4-4:30 p.m.).
I forked out another thousand yen or so for the Hakone Open Air museum. Although both museums weren't free for pass holders, they did have discounts. So, don't forget to show your Hakone pass at the counter.
It was a huuuuuuuge place. There were so many sculptures and artwork. One building was dedicated to Picasso's masterpieces. Some buildings housed artwork no one was allowed to photograph. There was also an art installation slash playground for kids.
Part of the reason I wasn't able to get to the other museums in time was because the open-air museum required a lot more walking around and looking at — and I didn't want to waste my thousand yen!
It was a really nice museum, and you can spend an entire day just admiring its art pieces.
Hakone Open Air Museum to Hakone-Yumoto Station: more than 30 minutes
From the museum, I walked back to Chokoku no mori station and rode the Hakonetozan Line to Hakone-Yumoto station. Initially, I thought I had enough time since there were only 5 stops to Hakone-Yumoto station.
What I didn't know was that two stops on that line would make a faux-stop to switch rails (or something…?) I actually forgot what the train announcer said, but it was something to that effect. So, the train ride was longer than I expected.
When I finally got to Hakone-Yumoto, it was almost 4 p.m., which was the latest entry time for the Kanagawa museum, while Odawara Castle's was 4:30.
Either way, I knew I didn't have time to enjoy the exhibits.
Hakone-Yumoto Station to Odawara Castle: 26 minutes
So, I said goodbye to Hakone and boarded the Hakonetozan Line to Odawara. From the station, I walked 8 minutes to Odawara Castle.
It was almost dark, but I managed to get some pictures of the castle. The park itself doesn't require an admission fee and is open 24/7. There is a nearby ninja museum that I didn't manage to catch.
After that, I decided to take a leisurely stroll back to the station. I was going to grab some dinner but decided to forego that in order to catch the train. When I got to the platform, I caught the 17:29 one.
And that was really funny to me because when I checked this timetable that the Odakyu service center lady had given me, it was the time I had marked before I even made my trip — but I had actually forgotten that because I hadn't be too strict with my itinerary anyway.
Odawara Station to Sinjuku Station: 1 hour and 36 minutes
I rode the Odakyu Line express to Shinjuku. I was tired and hungry and regretting not getting a bite to eat. I thought that I wouldn't get hungry on the way, but I kinda forgot that I only had brunch and not lunch.
And around 7 p.m., I arrived in Shinjuku!
It was a very fulfilling two day-trip. It was my first time traveling solo, but I really enjoyed it. For now, there won't be any solo trips again in the near future because of COVID-19, but it does allow me time to daydream and plan for when I can do that again.
It's not bad to dream of places elsewhere, after all.
I hope my itinerary can help you plan your Hakone trip better, so you can make the most of your time.
Good luck, and keep safe wherever you are!